The Canal Days Queen Pageant continues to be one of the festival's most anticipated events.  In 1994, the Canal Days Queen Pageant was started by Christine Miller in the form that we still use today. 
While the Canal Days Queen Pageant has been a Delphos tradition for over a quarter of a century, sadly the committee has had to make the difficult to decision to not hold the pageant for 2022.  Due to a low level of interest and a decrease in registered contestants, the pageant has been canceled and the pageant committee will spend this year revamping the current program to draw more interest and return in 2023.
However, with this being an annual tradition, we will still crown a new Canal Days Queen!  Prior to the origination of the pageant, queen candidates were asked to sell 50/50 raffle tickets, and the title was decided based on which contestant was able to sell the most tickets, therefore raising the most money for the festival.  After much discussion, and input from the candidates, the committee has decided to select the 2022 Canal Days Queen using this method.
The new Canal Days Queen will be crowned during the festival by 2021 Queen, Ella Wilson, and the winner of the 50/50 prize money will be drawn immediately after.  As normal, the queen will continue to reign over the festival, and all contestants will be featured in the annual Canal Days Parade on Sunday.  Each candidate will receive a small gift bag from local businesses, and the queen will receive a crown, sash, and a $500 scholarship.
2022 Queen Candidates are:
Melanie Gerdeman, daughter of Dan and Mandy Gerdeman, a Senior at Delphos St. Johns
Macy Poling, daughter of Craig and Stacey Poling, a Senior at Delphos Jefferson
Alivia Hines, daughter of Keri Edelbrock, a Junior or Delphos St. Johns
Emily Rode, daughter of Crysti Rode and Joe Rode, a Junior at Delphos Jefferson
To purchase tickets, please reach out to a contestant, or director Kim Ousley 419-302-3845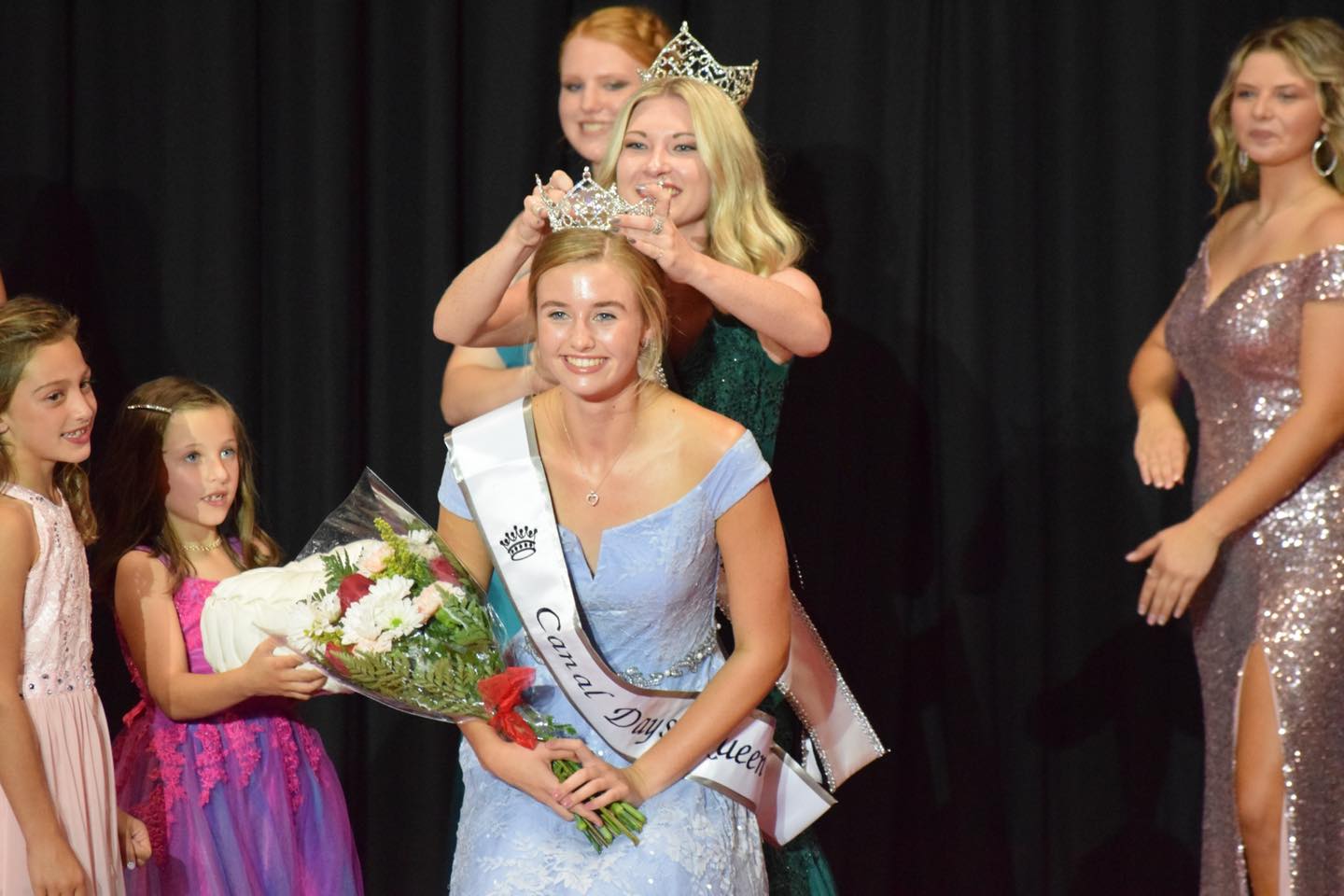 Our Mission
Serving as a scholarship pageant for high school girls from either of our two local schools, Delphos Jefferson or St. John's, the Canal Days Queen Pageant has awarded over $30,000 in scholarships to its participants in its lifetime.
Contestants compete in several areas of competition each year.  They are scored on their interview skills with the judges, as well as personal introduction, sportswear, evening gown, and on stage question.  In addition to all of the on-stage areas of competition, they are also awarded points for their community service and a short video they must submit.  The pageant averages 10-14 contestants each year and is always held the Sunday prior to the start of the Canal Days festival.
Contestants participate in a variety of events prior to and after the festival, including local fundraisers, various Canal Days events, and Chamber Ribbon Cuttings.  The girls often enjoy group bonding days, that include zoo trips, shopping, swimming, team work exercises, and spending time with our Little Princesses.  They are also always happy to be invited to area events and celebrations.  If you would like to invite the queen to your event, please call the Chamber Office at 419-695-1771.
Join us the Second Sunday in September to see who will be crowned your next Canal Days Queen!